Welcome to Air Force School, Begumpet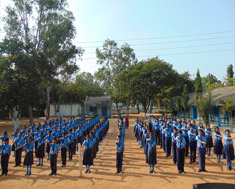 Air Force School, Begumpet was established in 1954 with the primary objective to provide educational facilities to the children of Air Force Personnel and civilians. It started with lofty ideas of making students better and responsible citizens of the nation. The school is situated inside the Air Force Station thus ensuring the safety of the children . We strive to make education a natural and friendly activity apart from providing opportunity for the all-round development of every individual.
The school is looked after by the School Management Committee (SMC). The school runs from Pre-primary (LKG & UKG), to grade X. The medium of instruction is English, and CBSE syllabus is followed.
News & Events

List of Selected candidates for admission in class LKG P-VII
List of Selected candidates for admission in class LKG P-VII ...

AY 20-21 Vacancies
Air Force School Begumpet is inviting applications for preparing annual selection panel for various posts for AY 2020-21 as per details given in Vacancies tab. Intrested candidates may apply along with their testimonials on or before 20 Mar 2020. ...

New Admissions 2020-21
Admission Notification will be shortly available under the Admission tab for the Academic Session 2020-21. ...

Annual Examination 2020
Annual Examination for the current academic session will commence from 02 March 2020. ...

Special Achievement
Special achievement in English Subject - Rubaisha Tanveer secured 100 on 100 ...

CBSE Class X Result 2018-19
Class X 2018 CBSE 100% Result- M Manogna secured 91.4%, Yuvraj Singh secured 90.6%, Kaustubh Sadhu Khan secured 90.4% and Eram Akhtar secured 90.4 %. Congratulations to all students. ...

Thought for the Day :
"Creativity leads to thinking, Thinking leads to knowledge, Knowledge makes you great." ― Dr. A P J Abdul Kalam
Last Updated on :
Wed, 18 Mar 2020